How to Choose the Best Solar Company in Zimbabwe
Looking for the best solar company in Zimbabwe to embark on your home or business project? Zimbabwe has many solar companies that offer different products and services to different clientele. With careful and thorough looking, you are sure to settle on the best solar company that shall meet your needs and give you value for money.

Making the decision to move offgrid and utilising the power of solar is a long term decision and one that needs proper planning. Choosing the right solar company in Zimbabwe to partner with may be challenging and difficult, given many solar companies now available. The process should however not be rushed is it may have serious consequenses. It is therefore important to evaluate a solar installer thoroughly to find the right one for your solar job for home or business. So how can you choose the best solar service providers for your project in Zimbabwe? If you are feeling bewildered by the many choices available and you are not sure where to start, this helpful, step by step guide can help. Let us serve you as a guide to help you find the right solar energy provider for your needs.
How to Choose the Right Solar Company
Choose a Company with Expertise
Solar Company is Licence and Insurance
Check the Solar Company Track Record and Experience
Reputation & Credibility
Solar Warranty and Maintenance Skills
Choose a Company with Expertise
You need to choose a solar company with expertise in solar installations. Basically, it is important for the solar company to have solar technicians that pay attention to detail. Solar installations are expected to operate for more than 25 years. Therefore, the system must be nearly perfect for you to receive the financial returns. The solar company in Zimbabwe should therefore have experience in installing solar systems. Certification in installing solar systems, coupled with experience in the field is very important.
If the solar panels are installed incorrectly or are titled too forward or too back, the lifetime production of the system shall be negatively impacted. Inverters, batteries and  all other balance of system components should also be rightly configured for best performance. A smart solar company realises that the most important aspect of an installation is getting it right the first time. A solar company that makes too many mistakes shall not succeed for a long time in the industry.
Check if the Company is Licenced or Insured
Solar companies in Zimbabwe should have all the required licences and permit from the Zimbabwe Energy Regulatory Authority (ZERA). ZERA has a register of companies for the convinience of all persons and companies who may require solar equipment or apparatus. Solar companies work with electricians and other responsible persons that ensure you get a quality solar installation.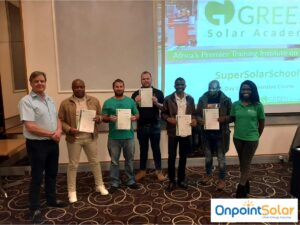 Getting certified electricians and solar technicians on your job shall ensure that you get a clean and quality installation. Moreover, the solar company in Zimbabwe should also have general liability insurance. Solar technicians work on your roof, in the ceiling and in the course of doing their job, they may damage property. Their vehicles may damage durawalls or even your house. Therefore, general liability insurance covers you in the event of such mishaps.
Track Record and Experience
Moreover, you should also check the solar company's track record. How satisfied are the clients that the company has provided services to? Is the track record clean or it is full of unhappy customers and complaints? This playback and checking of a solar company track record can give you an insight of the strengths and weaknesses of the company. Checking the background of the company can give you a huge insight into how the company conducts its business.
Reputation and Credibility
Speaking with the solar company's previous customers shall give you a great insight into how the company's service is. One can also check the company's social media pages to check customer reviews and feedback. Places like Google Places, Facebook, Instagram, TikTok and other social media spaces can provide a glimpse into the reputation and credibility of your solar installer. Such insights can also help you have an insight into the company's customer service, after sales sales and support. Solar company reviews from their past clients are a good way of evaluating a company and its installers.
The ratings and reviews given on these social spaces give a person a heads up about the bad practices of the company. Watching a pattern of complaints should give you the choice to leave the company and look for another one better. Looking at the company's response to complaints or issues raised is also a great way of seeing how the solar company handles negative customer feedback.
Solar Warranty and Maintenance Skills
A workmanship warranty is very important when choosing the best solar company in Zimbabwe. This document covers all the potential problems that may arise in the solar system installation because of a wrong installation. The solar panel may become loose on a day. A large branch may break and shatter a panel. Moreover, the solar system efficiency may suddenly drop. There are also more other problems that may come after the installation has been done. You should get an assurance that problems arising from a faulty installation shall be sorted by the solar company. Getting all these repaired using your own pocket shallnot be cheap. This is the reason why the solar panel installation warranty should play a role in the overall cost of your system.
Conclusion
Investing in solar energy yields long term results. You should get a solar system that gives you value for money, at the same time being durable and serving your needs. The solar company you engage should have expertise and pay attention to detail. It should be certified and insured and should give warranty on its work. At Onpoint Solar, we have the needs of all our clients at heart. We know how important your project is in your needs. Get in touch with our support team today to know how we can best serve your needs.